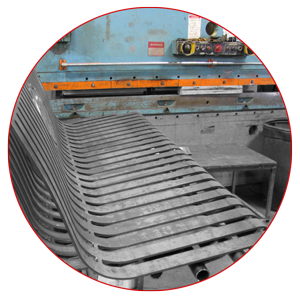 CNC bending is a critical element to the manufacturing process. Instead of welding multiple pieces together, we can design a product to be laser cut and bent into shape, preventing rust and corrosion at contact points.
Our CNC press brake allows for consistent accuracy in the bending process by adding an element of automation with CNC programming. Our expert staff oversee the process, from design to completed bend.
What equipment does your project require? Our shop has many different dies that can produce the bend tolerances needed. If you have need to a specific tolerance or bend, we are capable of producing custom dies to fit the tolerances needed.
Do you have a project that requires more work than just CNC bending? Not a problem! We have the necessary equipment to complete almost every custom fabrication job, whether it's powder coating, laser cutting, abrasive sandblasting, welding, or 3D design, we can help bring your project to life.
Would you like to get started on your next CNC bending project? Visit our contact us page to request a free quote and be contacted by a customer service representative.