Powder coated products can be seen everywhere in our lives– from the toughest machinery, to the household items we use daily. It is the durable, attractive finish that protects products from extreme weather conditions, chemicals, moisture, and other harmful outside influences that otherwise cause wear issues that are often seen with liquid paints.
Premier Powder Coating and Custom Fabrication is the only member of the nationally recognized Powder Coating Institute in the state of Idaho. Our industry experts are highly trained and experienced in the proper powder coating techniques, making us the highest trained powder coating team in the state of Idaho.
Our vast knowledge of surface preparation, precision masking, priming, and powder coating sets us apart as the choice powder coating provider in the state of Idaho.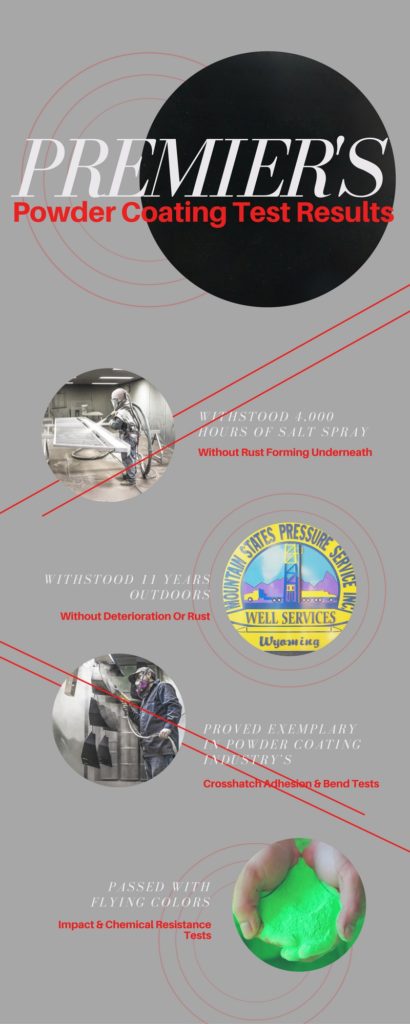 Premier utilizes a unique and thorough powder coating process that is proven to protect products against rust and corrosion. Our powder coating process has been tested in both controlled and uncontrolled environments, with great results. In a controlled environment, our powder coatings have withstood over 4,000 hours of salt spray without rust forming underneath the powder coating surface. In an uncontrolled environment, our powder coatings have withstood wear and tear along highways, oceans, and rivers for eleven years, without problem. The crosshatch adhesion test, bend test, impact test, and chemical resistance tests have proved that our processes are exemplary to the powder coating industry.
Premier is proud to offer the largest abrasive sandblasting booth and powder coating oven in Idaho. Our oven is 30' long, 10' wide, and 8' tall. This allows us to handle almost every project, from small cars to long handrail jobs.
We operate 24 hours a day to provide our customers with the fastest turnaround possible. That means that even with a short deadline, we can create a product that you'll enjoy for years to come. We're so sure that you'll love the quality that we back our sandblasted, primed, and powder coated work with a one year warranty.
For a full list of powder coating colors offered, visit our color samples page.  Basic colors are listed below.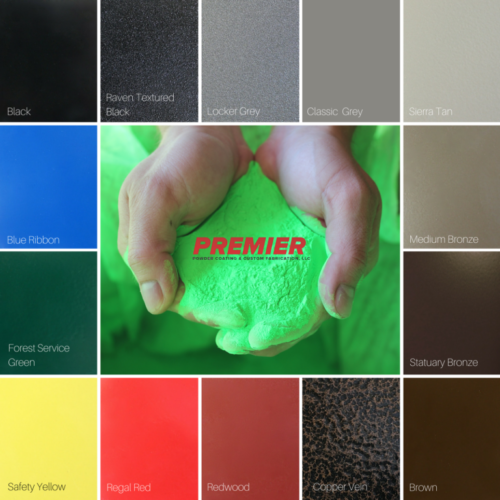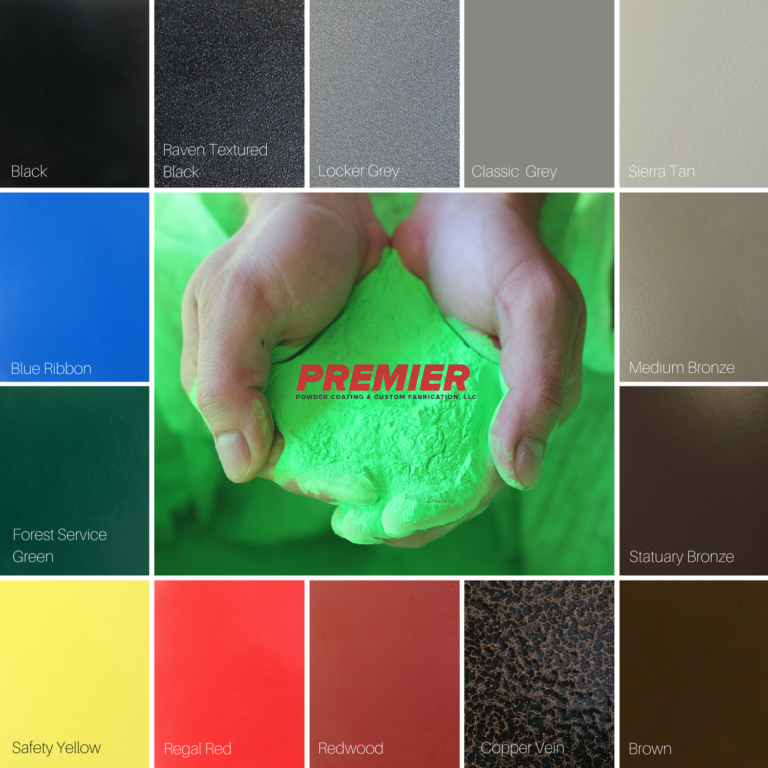 To get started on your next powder coating project, visit our contact us page. Our experts are happy to answer any questions that you have. To learn more about our powder coating process, visit www.idahopowdercoating.com.
Facts
Since its introduction in North America almost 40 years ago, powder coating has become the fastest growing finishing technology in use today.
Powder Coating is a dry paint which contains no solvents. Each powder particle contains the necessary resin, pigment, modifiers, and a curing agent.
Powder is applied in dry form electro-statically by charging the powder particles and applying them directly to the grounded part. The charged powder adheres to the surface until it enters a curing oven where the powder melts, bonds, and cures to the desired surface characteristic. The result is coating which provides a uniform, durable, high quality finish.
Quality
Powder is cost effective and is superior to most liquid coatings for the following reasons:
Chip resistance
Corrosion resistance
Chemical resistance
Abrasion resistance
Impact resistance
Adhesion
Ultraviolet resistance
Weather-ability
Environment
Traditional Park Bench and Receptacle – designed, manufactured, and powder coated by Premier Powder Coating and Custom Fabrication, LLC.
Since there are no solvents, the entire powder coating process is environmentally friendly.
No VOC (volatile organic compound) emission to the atmosphere.
There is no generation of hazardous waste.
Environmental compliance issues are virtually eliminated.
Powder coating application is approved by the EPA.
Product looks new no matter what elements it is subject to. The picture to the left is of a park bench and receptacle that were manufactured and placed 6 years prior.
Any metal object that can hold an electrostatic charge and  withstand a 400 degree oven for 45 minutes is able to be powder coated.  Even with intricate objects powder coating maintains a smooth, polished, and even finish.  Here at Premier we can powder coat almost anything that you bring in including but not limited to:
Patio furniture
Park benches and picnic tables
Bike parts
Car parts
Motorcycle parts
Bed frames
Sheet metal
Hand rails
Fences
ATVs
And more!
Click on the link above to see a complete list of objects and materials suitable for powder coating.